Today, Guangzhou Guoou Electronic Technology Co., Ltd. officially entered the "Wise Wonderful" project of HC.com, becoming one of the massive high-quality merchants with one-stop direct access to product information on the entire network. "Wise Wonderful" allows buyers to quickly and conveniently find high-quality sources, and provides companies with massive matching inquiry information, gains more exposure, quickly concludes transactions, reduces costs and increases profitability.
Guangzhou Guoou Electronic Technology Co., Ltd. is a high-tech enterprise specialized in R&D and production of thickness measurement technology. The company is headquartered in Baiye Commercial Center, No.27 Gongyi Road, Huadu District, Guangzhou. Our company has a complete and scientific quality management system. In 2015 and 2016, it was successively evaluated as an ISO9001 quality management system certification enterprise by the National Federation of Bid-winning Research Institutes. So far, it has obtained a total of eight innovation patents authorized by the State Intellectual Property Office.
Paint thickness gauge, coating thickness gauge, aluminum oxide layer thickness gauge, large range coating thickness gauge, and full range of ultrasonic metal thickness gauges developed by Guangzhou Guoou Electronic Technology Co., Ltd. Thickness measurement precision instruments continue to affect the industry in terms of stability, linearity and accuracy. They are widely used in used car evaluation, steel structure, electroplating, electrophoresis, building materials and bathroom, hardware and machinery, road and bridge construction, shipbuilding and car building, anti-corrosion engineering, electricity, Commodity inspection and other engineering sites and high-tech inspection fields play an important role.
The company's integrity, strength and product quality continue to move toward the ranks of the international level, and have been recognized by the industry and the majority of users. In June 2016, it was rated as the Guangdong Province Contract-abiding and Credit-Reliable Integrity Enterprise. In line with the business philosophy of truly helping users solve testing problems, improving product quality, creating actual value for users, and contributing to social progress and national prosperity, we are honest, serious, and work hard to take every step. To provide users with cost-effective, high-quality instruments and services.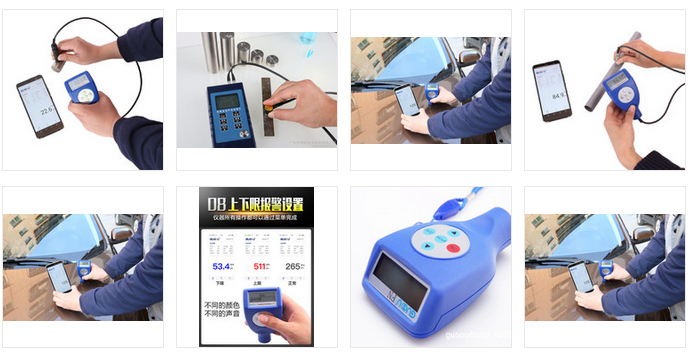 Goou's third-generation Bluetooth interconnected coating thickness gauge makes inspection more scientific. Goou's third-generation Bluetooth coating thickness gauge, based on the second-generation functions, adds storage, Bluetooth, USB, backlight, red and green dual-color LED indicators, menu operations and other functions, and comprehensively strengthens the testing of software and hardware, high and low temperature, Anti-drop, probe wear, test speed, test stability, voltage stability, etc. GTS820F coating thickness gauge has a wide range of magnetic instruments. Its technical parameters are in full compliance with the standard.
Goou's third-generation Bluetooth interconnected coating thickness gauge is a magnetic portable coating thickness gauge that uses magnetic induction testing methods to quickly, damage-free and accurately test the thickness of non-magnetic coatings and coatings on magnetic substrates. It can be used in the laboratory as well as the engineering site. This instrument can be widely used in manufacturing, automobile inspection, metal processing industry, chemical industry, commodity inspection and other inspection fields. It is an indispensable instrument for the material protection profession. Fe-based probes can detect all non-magnetic coating thicknesses, such as paint, powder coating, plastic, porcelain, chromium, copper, zinc, etc. coated on steel and iron.