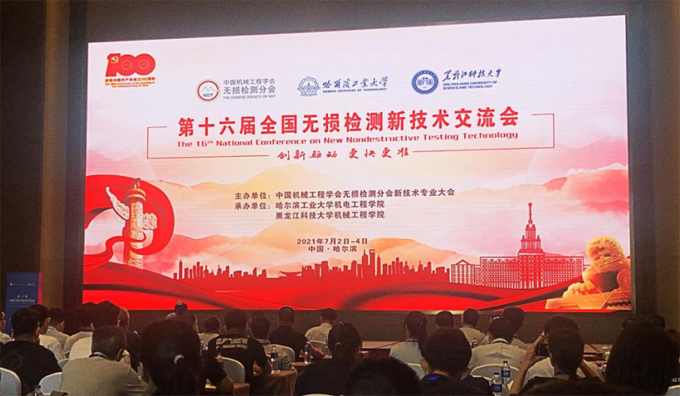 On July 2-4, 2021, under the guidance and support of the School Discipline Office, the 16th National Non-destructive Testing organized by the Non-destructive Testing Branch of the Chinese Mechanical Engineering Society, and jointly undertaken by the School of Mechanical Engineering of our school and the School of Mechanical and Electrical Engineering of Harbin Institute of Technology The new technology exchange meeting was successfully held. From Huazhong University of Science and Technology, Central South University, University of Electronic Science and Technology of China, Beijing Aviation Materials Research Institute of China Aviation Development, China Aircraft Strength Institute, China Aviation Technology Research Institute, Beijing Jiasheng Intelligent Inspection Technology Co., Ltd., Beijing Ruiguang Technology Co., Ltd., etc. More than 150 experts and scholars from more than 50 units gathered along the Songhua River; 24 teachers and students including the dean of the School of Mechanical Engineering Dong Xing, the deputy dean Cheng Junting, and the deputy dean Tang Qingju attended the meeting.
This exchange will focus on the current development and frontiers of new non-destructive testing technology in my country, new principles and new methods of non-destructive testing, new technology and intelligent diagnosis of non-destructive testing, equipment development and application of non-destructive thickness gauges and non-destructive flaw detectors, and non-destructive testing in engineering New issues, standardization of new non-destructive testing technologies, and personnel training and certification related to new non-destructive testing technologies are exchanged and discussed. In accordance with the spirit of the "Three Orientations", the conference aims to build a communication platform, showcase the latest achievements, and promote the integration of industry, academia and research and the entire chain of scientific and technological innovation from academic to industry.
The body design of Guoou Ultrasonic Thickness Gauge is sturdy and durable, it is very convenient to use, and the measurement results are accurate and reliable. Use dual crystal probes to measure the tube wall thinning of pipe fittings with internal wall corrosion, and use single crystal probes to measure very accurate wall thickness of thin-walled or multi-layer materials.
Guoou focuses on precision thickness measurement, provides customers with reliable solutions for automatic detection, and is committed to providing professional technology on-site application.