Preview:
True color screen Leeb hardness tester is innovation designed basing on the intensive study of the Leeb hardness measurement principle. On the basis of existing data table, four kinds of material hardness system are added: D type impact device alloy tool steel increased the HRA, HB;Cast aluminum alloy HV items;C impact device increased the cast aluminum alloy HV items. And, it is worth mentioning that the function of "user materials" is developed, which not only implements the user demand for special material testing but also expand greatly the Leeb durometer application range.All above is exclusive for all instruments at home and abroad.
This instrument conforms to the below regulation and rules:
Domestic standard:GB/T 17394 (1998)、JB/T 9378 (2001)、JJG 747 (1999)
International standard:ASTM A956 (2006)、CNAL T0299 (2008)、JIS B7731 (2000)、DIN 50156 (2007)、DGZfP Guideline MC 1 (2008)、VDI / VDE Guideline 2616 Paper 1 (2002)、ISO 18625 (2003)
Features:
1. Four kinds of material hardness system are added by the market requirement: D type impact device alloy tool steel increased the HRA, HB;Cast aluminum alloy HV items;C impact device increased the cast aluminum alloy HV items. The "user materials" function ensures it'd test all metal material hardness theoretically.
2. The high strength import plastic alloy enclosure, streamlined appearance design, more portable and durable.Suitable for bad operating environment. Resistance to vibration, shock, and electromagnetic interference.
3.According to the Leeb hardness measurement principle, it can test a variety of metal materials. With wide measuring range, there is no limit to the shape of workpiece and support 360 DHS measuring direction. It also has a boot value software calibration function, which can guarantee the data applicable and accurate under different norms and standards in any industry.
4.It not only can switch among seven hardness systems Leebs (HL), brinell (HB), rockwell B (HRB), rockwell C (HRC), rockwell (HRA), vickers (HV) and shaw (HS), but also can realize the transformation between the hardness and strength.
5.Excellent compatibility, automatic identification of seven impact devices without calibration. Meet the maximum demand of different clients in various fields.
6. Adopt large screen true color liquid crystal displays and WOINDOWS interface. Lively and vivid content, clear and intuitive information.Can adjust the LCD brightness freely, convenient to operate in dark environment.
7. Liquid crystal indicates the remaining power icon, prompt the user charge in time.
8.Hardness value can be preset upper and lower limit. Automatic alarm if beyond the scope. Convenient for users batch testing.
9.Power supply adopts integrated lithium battery and can work continuously not less than 100 hours, with automatic power saving function, automatic standby&shutdown, etc.
10.Outer dimension:154×82×35mm(main m/c)
11.weight:0.6Kg
Application material:
Steel and cast steel, alloy tool steel, stainless steel, gray cast iron, nodular cast iron, cast aluminum alloy, copper zinc alloy (brass), copper tin alloy (bronze), pure copper, forging steel, and customer specific materials.
Application fields:
Mould cavity and core.
Bearing and other parts.
Pressure vessel, steam turbine generator unit and its device failure analysis.
Heavy type work-piece.
Equipped machine or perpetual assembly.
Quite narrow testing area work-piece.
Original standard test record is required.
Distinguish metal materials in the warehouse.
Large-sized work-piece wide range quick re-test.
Technical parameter:
Measuring range:
(170-960)HLD,(17-68.5)HRC,(19-651)HB,(80-976)HV,(30-100)HS,(59-85)HRA,(13-100)HRB
Measuring direction:support 360º(vertical downward, up-oblique, horizontal,down-oblique, vertical upward)
Hardness system:HL、HB、B(HRB)、C(HRC)、A(HRA)、HV、HS
Indication error:HLD:±5 HRC:±1 HB:±4
indication:2.4'complete view angle,TFT color LC
Data storage:max 600 groups(impact times: 32~1)
Working voltage:3.7V lithium battery
Continuous working time:about 10H(no back-lit)
Communication interface standard:RS232
Working condition
Temperature:working -20~+60℃;storage -30℃~+60℃
Relative humidity ≤90%;
No strong vibration,no intense magnetic field,no corrosive&heavy dust in the surround.
Starting display and brief introduction:
Main display interface after starting as illustrated below,
Battery icon:battery remaining capacity
Impact direction:current impact direction
Average value:When up to setting impact times,average value is indicated.
Hardness system:current measuring value system
Measuring value:current single test value(no average value hint),current average test value(average value hint)
 means exceeding the conversion or measuring range,means under the conversion or measuring range
Material: current setting material.
Impact times: indicate impacted times when measuring. Indicate setting impacted times when set by times shortcut key. Indicate corresponding times of single test value when browsing single test value.
Standard configuration:
NoName&nbps; Q'ty
1Main m/c&nbps; 1pc
2Standard Leeb hardness block1pc
3D impact device&nbps; 1pc
4Nylon brush A&nbps; 1pc
5Small supporting ring&nbps; 1pc
6Enclosed file&nbps; 1pc
7ABS instrument box&nbps; 1pc
8charger&nbps; 1pc
9USB charging cable&nbps; 1pc
Optional configuration:
NoName&nbps; Q'ty
1abnormal shape impact device7 kinds
2abnormal shape supporting ring12pcs
3Impact ball head&nbps; 2pcs
4Rubber sheath&nbps; 1pc
5Wrist belt&nbps; 1pc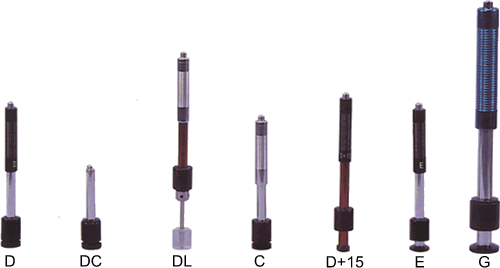 abnormal shape impact device


Series abnormal shape supporting ring